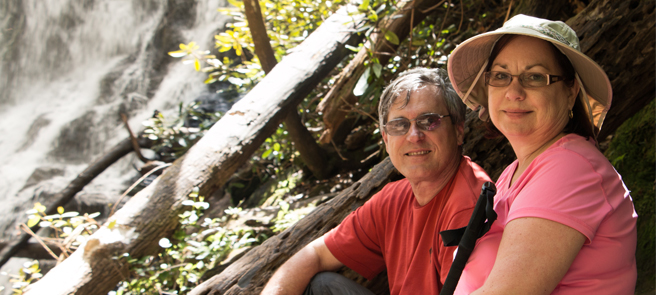 George "Tin Man" & Carolyn "Mrs. Tin Man" Andrews – Owners & Founders
George and Carolyn both grew up in Florida where they met and married in 1977. They spent most of their careers in Wilmington, NC before retiring to Huntsville Alabama in 2014. They raised three great men and to date have 5 amazing grand kids. The original idea for AntiGravityGear came to George when hiking with his son's scout troop. Having carried the typical heavy pack and gear, he dreamed of "anti-gravity gear" to make the hike more enjoyable. Many products you see today were born from that vision.
George is a man of many talents and hobbies. When not spending time with the family, he can usually be found gardening, hiking, playing guitar, tinkering with Volkswagens, making ultralight gear, building things or baking bread. He is known by many as the "Tin Man" … due in large part because of the "tin can" alcohol stoves he builds and because he retired from a career as an air traffic controller. To some he is know as the "Breadman" because he frequently delivers his homemade bread to friends and family.
Carolyn, or as the hiking community calls her "Mrs. Tin Man", is a retired Nurse Manager and IT Analyst, proud Mom and "Grammie", life long camper and seamstress. She helps with day to day operations, product development and manufacturing at AntiGravityGear, West.
When you meet George and Carolyn, it does not take long to realize that they love God, love their family, and would love to help you enjoy the "ultralight" backpacking journey! If AntiGravityGear doesn't have what you need, they will help you find someone who does! Your satisfaction is their priority!
Oh, and out of respect for George's original bio which resided on the AntiGravityGear website for over a decade, it's worth mentioning… "George loves to hike and eat oysters."
email: [email protected]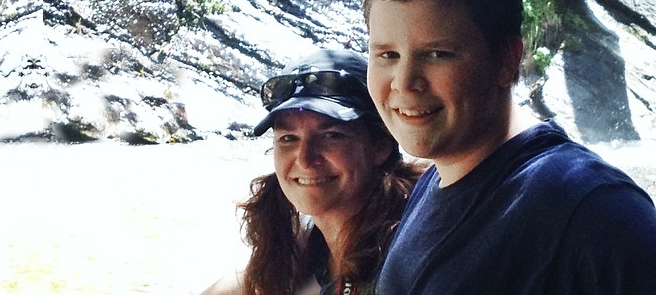 Carolyn "Oz" Mejia – Co-Owner & COO
Carolyn Mejia (pronounced ma-HE-uh) – not  to be confused with "Mrs. Tin Man" whose name is also Carolyn. Her trail name is "Oz" and she's been a behind-the-curtain part of AntiGravityGear from the very beginning, so feel free to also call her "The Great And Powerful" if you want. It fits. Oz is an accomplished graphic artist and our guru for all things web related. One of her many passions is photography. She resides in our AGG Wilmington office and is in charge of general operations around the shop. When she is not in the shop taking pictures, talking to customers, filling orders, designing pocket profiles, or working on the website, you can most likely find her swimming in the ocean with the sharks or hiking in the mountains with the bears. This photo of her and son, Cameron, was taken on a backpacking trip on the Foothills Trail in South Carolina.
email: [email protected]