During the production phase of developing the AntiGravityGear Quicksilver Ultralight Hammock System, we sent one of our first renditions to James and his girlfriend Brianna. They kindly agreed to write up a gear review and give us some feedback. Here is what Jameshad to say… there's a nice surprise at the end.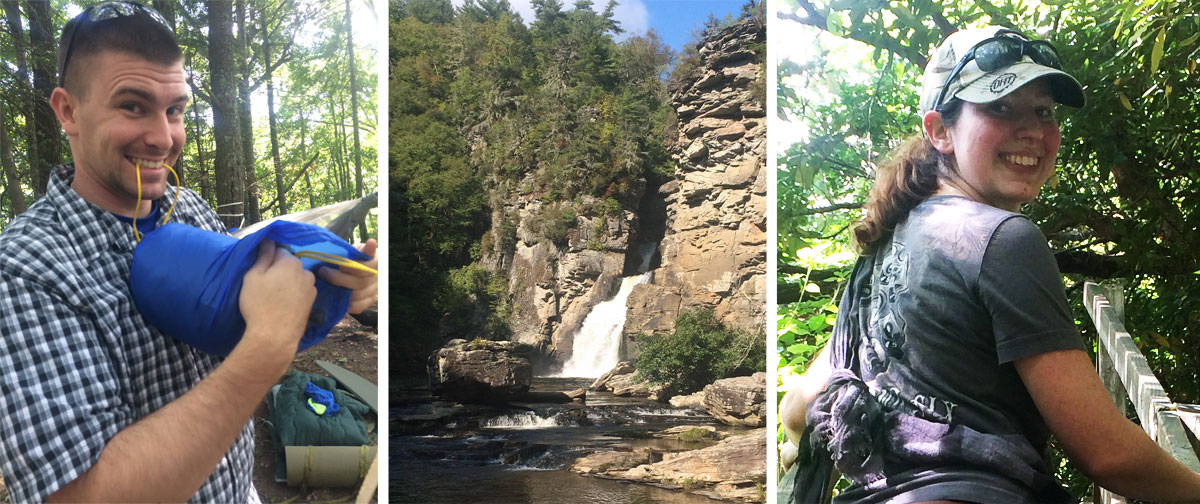 The girlfriend and I requested and received two hammocks with full kits, hammocks, stuff sacks, suspension lines, bug nets, support lines, & one rain tarp to split between us , for our annual camping trip. This time, it was to Linville Falls, NC. First off; the construction and delivery time on the full set up was incredible. I was completely surprised to receive them in the time frame that I did. Everything arrived in a ready to go kit; which is invaluable as I know myself, and I'll always forget at least one thing if I have to try to go out and get it beforehand. The simplicity was amazing as well; everything came pre-set and installed. Literally grab and go. We gave them one quick test drive before we left, and that was it.
The suspension lines have plenty of length, and are made of a material that I'm extremely familiar with. Exponentially stronger than they need to be, and more adaptable and lighter than a ready-made store bought set up. The pre-sewn loop was an unexpected perk; making set up quicker and more convenient. I also found that the extra slack is extremely handy if tied back onto itself, in order to create a drip line.
We managed to both set up and tear down the entire hammock without them ever touching the ground, which is of obvious advantage in the rainy mornings and evenings in North Carolina. The bug nets were pre-installed, but simple enough that they could be taken off if desired. I wouldn't unless they needed maintenance, as the nets weigh almost nothing, and take up next to no room in the carry pouches. They also performed admirably, and with adequate circulation. They have the capability to be cinched down to enclose the hammock completely in the nets, but we never felt the need to do so. Nice feature, though; especially living in South Carolina, where the mosquito is our state bird.
The hammocks themselves are exceptionally lightweight; to the point that we didn't trust them at first. Several nights in multiple locations later, we have absolute trust in our AntiGravityGear hammocks! The seams are flawless, the material is breathable and lightweight, yet strong enough to support our body weight and then some, and the lines on the end are secure and simple. The hammocks can be suspended in minimal time, and laying at and angle Brazilian style – they just support the body perfectly. There is enough extra material to allow freedom of movement, but not to the point that there is wasted space, or that you feel like you're constantly sagging. Most nights I woke up in the same position I fell asleep, but I was able to roll onto my side whenever I wanted to.

During take-down, I found that I could disconnect one side and loop the tail around my wrist as I gathered the hammock into the stuff sack, but my preferred method was to hold it in my teeth in order to free up both hands. Not my recommended method, but hey; whatever works! The stuff sacks themselves have the convenience of staying on the hammock when set up, meaning there's never any searching for a good place to put the bag at night, rummaging around in the mornings to find them, or realizing that the wind picked up during the night and carried the bag into the next state, leaving you without any good means of containing one of your most important pieces of gear. It's all about the little things! The stuff sacks have enough room in them for the suspension lines, hammock, bug net, and a couple small accessories such as flashlights and carabiners, if desired. Carabiners would make fore a slightly faster set up, but it's a feature that I don't find terribly necessary. Never hurts to have one or two with you, though, and being able to set up without absolutely needing one can free them up for other tasks, if need be.
Lastly the tarp. Man, what a tarp! We received an 11′ x 11′ tarp, with plenty of tie-down loops sewn in. I didn't actually believe that the tarp was that big after seeing it compressed for the first time. Absolutely waterproof, it also proved to be extremely useful to curb the windy climate we were staying in. With the two of us both hanging our hammocks off of one tree, this was an ideal piece of gear for us. A few stakes were all that was required to anchor the tarp, and it provided us an area to not only sleep, but also cook and change clothes, with enough room to move freely without bumping into it constantly. I may end up ordering a smaller tarp for just myself, but this one is going out anytime the two of us go out. And with it's small size and relatively light weight, its always a piece of gear worth bringing for anything you may need.
We had few suggestions for improvement for the entire kit. Perhaps compression straps on the stuff sack to take up some of the extra space? The hammocks were easy enough to squeeze down into a pack, but being able to cinch them down may or may not be worth while. Also, Brianna suggested an accessory pocket off to the side, just big enough for a flashlight and a watch. That was about it. These are also untested suggestions; so they may not even be worth implementing.
And also, I proposed, and she said yes! Thanks again for the last minute gear to make our trip so much more comfortable, and adding to the experience!
Best Regards,
James & Brianna